Murder Mysteries in Devon
This warm and welcoming county is situated in the centre of England's beautiful West country. Overflowing with character, Devon is steeped in history and surrounded by a stunning mix of landscapes including spectacular cliffs, golden sandy beaches and wild moorlands. It was these wild moorlands where murder mystery writer Sir Arthur Conan Doyle based his best known book The Hound of the Baskervilles.
The county is also home to two national parks, parts of the Jurassic coast and most spectacularly, the English Riviera. Starting at Torquay and finishing at Brixham, South Devon's beautiful bay has been popular since Victorian times offering much more than just a seaside holiday! All this confirms Devon as the ultimate destination for a murder mystery night to remember!
We are betrayed... This mystery combines gadgets and espionage to create an experience that will leave you shaken and stirred.
The Game's Afoot! A traditional murder mystery evening with lords, ladies, maids and butlers... And Sherlock Holmes himself!
An offer you can't refuse... There's been a murder at the heart of the mob, if it isn't solved soon police are expecting total war!
Murder Mystery Venues in Devon
Here are a few venue recommendations in Devon that are suitable to hold one of our murder mystery events. We may have suggested particular murder mysteries below, but don't be fooled - we can run all of our events at the majority of venues.
Mercure Exeter Southgate Hotel
The Mercure Exeter Southgate Hotel is a contemporary 4-star hotel and supremely located in the heart of Exeter. Within walking distance to all the main attractions and the city centre, the Exeter Southgate Hotel is perfect for a murder mystery night in Devon.
Set in an estate of 1,200 acres, Dartington Hall is a stunning mix of ancient and modern buildings with parts dating back to the bronze age! The Great Hall forms part of the original manor house and is found within the medieval courtyard; an ideal setting for our murder mystery Who Killed His Lordship.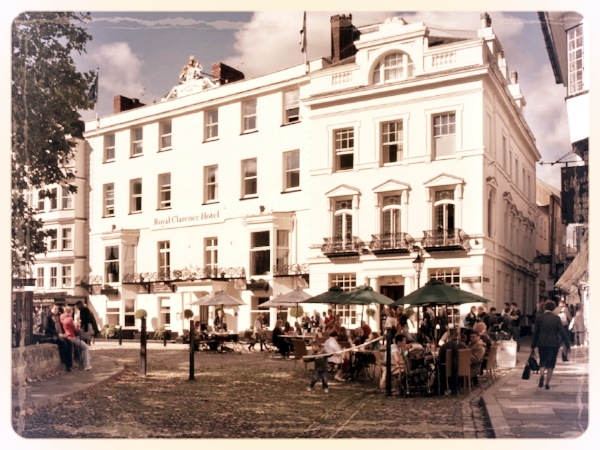 Due to reopen 2019. Formerly the The Royal Clarence Hotel, ABode Exeter is located in the heart of the city's Cathedral yard. We love the Clarence room; it boasts 20ft high ceilings and is centred around a large feature chandelier. The perfect opulent atmosphere for a glamorous murder mystery.
This is just a selection of venues available. For even more choice, and for access to our best rates, contact us to make use of our free venue finding service.